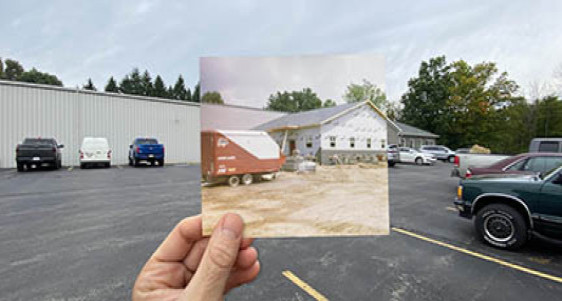 Depending on your perspective, 25 years can feel like an eternity. On the flip side, it can pass by in the blink of an eye. As Powered Aire celebrates 25 years in business, it's safe to say it can feel like a little bit of both.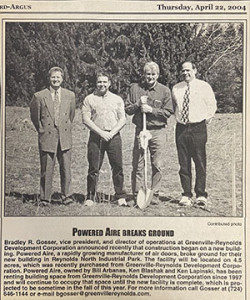 In 1997, Ken Lapinski, Ken Blashak and Bill Arbanas recognized a unique opportunity in the Air Curtain and Air Door marketplace. Having spent most of their professional lives working in the Air Curtain market, they knew there was a need for high quality air curtains that could withstand the rigors of everyday use, regardless of the climate, location, or the industry in which they were used.
With that knowledge, support from their families and a rented building in Greenville, PA, they began manufacturing Powered Aire Air Curtains. In the early years, you could count the number of employees on a single hand and a typical day included sales calls, order taking and manufacturing.
"Our first order came from the Lee Equipment Company in Calhoun, Georgia for $1,000", Said Ken Lapinski. "To see a check made out to the company you conceived and worked tirelessly to build—it was quite a feeling."
He continued, "It was both our goal and our passion to become the premiere provider of high-quality air curtains that are competitively priced. As our reputation grew, we were able to expand our product line, increase our capacity and target new markets."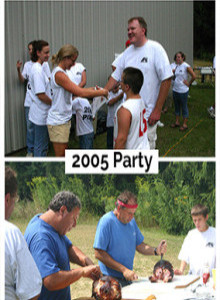 In 2004, Powered Aire realized things were getting a little cramped in the space they utilized for the last seven years and began searching for a location suitable to meet the needs of its growing business. Later that year, they broke ground on a 20,000 square foot building to house its production, operations, and sales teams. The completion of the new building, coupled with significant growth, enabled the company to drastically increase its workforce, as well as its share of the market. It didn't take long for the 20,000 square feet to begin feeling a little tight and more expansions occurred. Additions in 2010 and 2016 further increased the building's footprint, adding considerably to its production, service, and support divisions.
While innovation and growth are important, Powered Aire also makes it a priority to never lose sight the core principles that have kept it going for 25 years. The company always works to provide the most complete and comprehensive service possible. From the moment an air curtain is ordered until when it's up and running, it's important that the customers know they can count on Powered Aire to provide the highest levels of support and service.
Recently, Powered Aire was able to celebrate 25 years with its employees and long-standing customers, many of whom have worked for and with Powered Aire since the early days.