Featured Air Curtains & Air Doors
Air Curtain Selector Tool
Not sure where to start
when looking for an air curtain?
This tool is designed to help you find the best air curtain for your situation by asking a few basic questions.
Use Air Curtain Selector Tool Now
Commercial Air Curtains
Commercial air curtains (air doors) are found in retail stores and environments with consistent levels of pedestrian foot traffic. These curtains are aesthetically pleasing and quietly perform at the highest level to maximize employee/customer comfort and energy savings.
Industrial Air Curtains
Air curtains must be equipped to handle the unique challenges presented by industrial environments. Temperatures, dust, debris and other environmental factors are constantly changing, and Powered Aire's stainless-steel, heavy duty air curtains were designed to excel in these industrial applications.
Specialty Air Curtains
Our air curtains are as versatile as the applications where they are used. From a small drive-thru window to large cold-storage freezer, Powered Aire makes an air curtain (air door) for every environment, regardless of size, location or application.
Begin your search by seeing what air curtains are available by application
---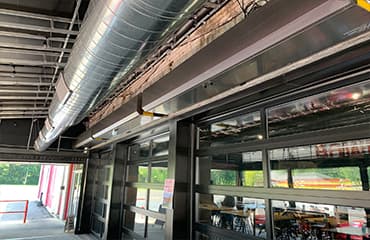 Featured News
March, 07 2023
Air Curtains and Restaurant Patios – And you thought a burger and fries made a good match
Read Article