UVC-E
Air Curtain
UV-C Light System For Air Purification Electrically Heated Air Curtain
Electric
The UVC-Aire offers a variable speed air curtain in a stainless-steel case. ¾ HP motors run continuously on low speed to provide a constant stream of purified air. Low-speed operation of the unit has been proven to inactivate/kill up to 99% of Coronavirus pathogens passing through the air curtain. The UVC-Aire is ideal for healthcare, retail, gyms, restaurants and other facilities looking to provide an added layer of protection against airborne germs.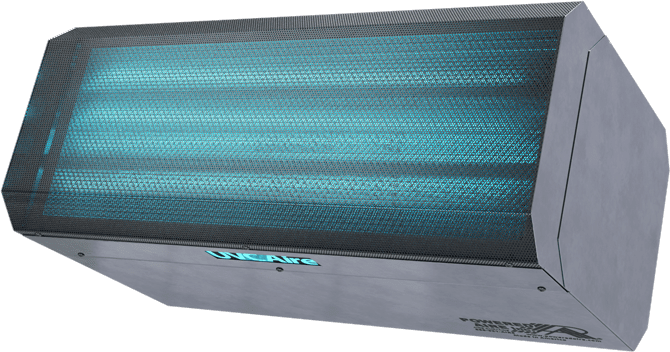 ---
Unit Sizing
Unit Widths:
from 3' to 12'
Mount Type:
Above Ceiling
UVC Light Wavelength:
253.7nm
COVID-19 Kill Rate:
99.01 to 99.71%
dependent on unit/speed
For Door Widths Between
36" and 168"