MP

The Mini-Power is Powered Aire's most compact air curtain making it ideal for applications where mounting space is limited. Common applications range from drive-thru and concession stand windows to patio seating areas and retail entry doors.
Incremental Widths
3' to 10'
View MP Specs & Info
MP-E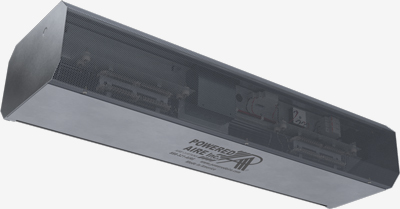 The Mini-Power's (MP) compact low profile design is ideal for entrances where space is limited. The MP model is often seen in toll booths (for fume control), zoos/amusements parks, butterfly houses, restaurants (to separate smoking and non smoking sections), offices, and in all applications where the distance between the door header and ceiling is not sufficient to mount a standard air curtain.
Incremental Widths
3' to 10'
View MP-E Specs & Info